This store requires javascript to be enabled for some features to work correctly.
TOPIDE DUAL is the newest version of the innovative TOPSIDE Squonk mod. This device changing squonk mod has all the innovation from the original single battery TOPSIDE but now offers more power and extended battery life. This hard hitting device offers 200W of regulated power and uses dual 18650 batteries. The TOPSIDE DUAL offers a large 10ml squonk bottle eliquid capacity (backward compatible with original topside bottle and sled), simple top filling and an easy to use interface which makes this the perfect addition to those who want more power and extended battery life.
⚠ We are aware that many of our customers have been facing the battery door issue, and we highly recommend you to check this blog link: https://www.dovpoecig.com/blogs/news/the-topside-battery-door-issue , get to know that how to find help more efficiently.
⚠ If you've already bought the replacement parts, please check below link to learn how to replace the battery door and Frame.
https://www.dovpoecig.com/blogs/news/topside-dual-battery-door-and-frame-replacement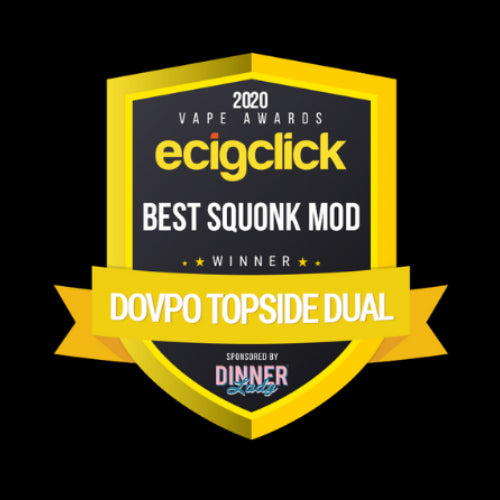 Specifications
Dimensions :88.5 x 54  x 42mm

Collaboration with The Vapor Chronicles - TVCreation

Dual High-Amp 18650 Batteries - Not Included

10mL Silicone Squonk Bottle

Wattage Output Range: 5-200W

Voltage Output Range: 1.0-12V

Resistance Range: 0.08-3ohm

Temperature Control Functionality (Firmware Upgrades Require)

Supports Ni200, Titanium, Stainless Steel Compatibility

Working Mode: Variable Wattage & Bypass & Temperature Control
In The Box
1 x TOPSIDE DUAL Squonk Mod

2 x 10mL Squonk Bottle

1 x Accessory Bag

1 x MicroUSB Cable

1 x Battery Usage Warning Card

1 x Instructional Manual