This store requires javascript to be enabled for some features to work correctly.
The Riva DNA250C Box Mod is the latest mod from DOVPO. This 200W dual 18650 mod features the EVOLV DNA 250C chipset to ensure the great performance from fast firing speed to various of advanced settings. On the appearance, DOVPO utilizes real leather with zinc alloy for the first time, results the great combination of great feeling and aesthetic. In a word, this DOVPO Riva DNA250C Mod is absolutely the competitor you can't be discounted.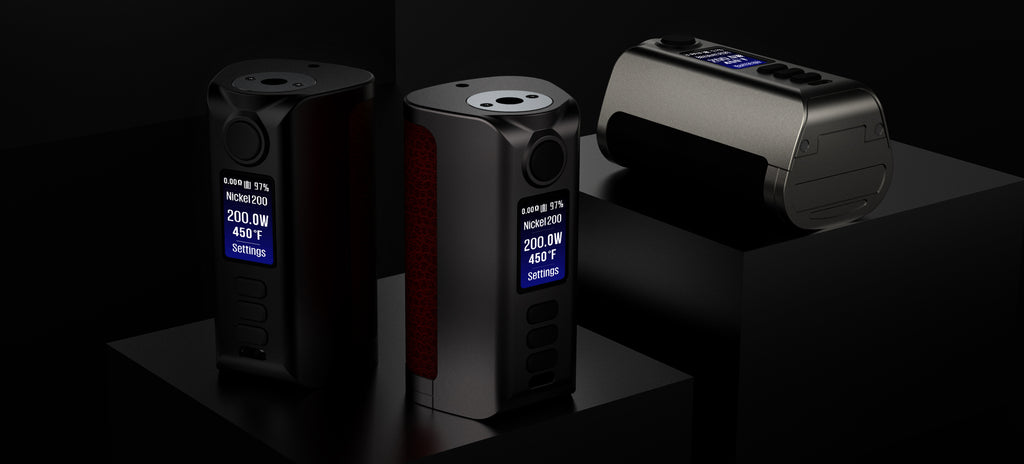 Specifications
Size:39.5mm*43mm*80mm;
Material:Zinc Alloy + Leather;
Weight:151g;
Chipset: Evolv DNA250C;
Battery: 2 x 18650 Batteries;
Output Voltage Range: 0.2v – 8.0v;
Working Mode: Variable Wattage,Temperature Control, Replay;
Wattage Range: 1.0W – 200.0W;
Display: 0.96" Full Color TFT Screen;
Charging: MicroUSB 5V/2A
The Design
This Riva DNA250C mod is the very first product that with leather designed from DOVPO. We continues the beloved arc design and match with real leather, making the whole look more aesthetic and harmonious. What's more, it brings the hand feel to a whole new level and you'll feel so comfy to grab the mod in your palm. In size, our engineering team made the best use of the inner space, tried the best to minimize the product dimensionally in order to save the problems of taking the product to outside.
The Chipset 
Once again, the Riva mod features the Evolv DNA250C chipset. Over the last decade, Evolv has been responsible for creating scores of technologies seen in many of the e-cigarettes on the market today. Direct wattage control, temperature control and balanced charging just to name a few.  
What's in the package
1 * RIVA DNA250C Mod
1 * Micro USB Cable
1 * User Manual
1 * Battery Usage Warning Card
1 * Warranty Card




REVIEWS: